Opus BT-C3100 Charger/Battery Tester
---
This product is eligible for further discounts depending on how many you buy! You can purchase other products in the same category (batteries, chargers, or accessories) and it will add to the wholesale discount. Add some products to your cart to test!
---
This is the Opus BT-C3100 v2.2.  This is identical to the BT-C3400 that some other vendors are selling.  This is the most full featured charger we sell.  It can do all kinds of stuff in addition to just charging batteries, including testing and cycling them.  
This product is for advanced users only. We will not provide advice or technical support in using it to test your batteries.
Opus BT-C3100 Features:
4 independent channels.  Most chargers have some channels connected together but not this one.  You can have each channel doing a different thing, one could be analyzing while another is charging, they could all be charging at different rates, the sky is the limit.
Internal resistance quick battery test mode checks internal resistance of batteries
Discharge testing up to 1A checks that your batteries really have as many mAh as they say they do.
Charging up to 2A per channel (up to 2 batteries) or 1A per channel (up to 4 batteries) allows very fast battery charging.
Refresh mode allows you to cycle batteries automatically
Charges Li-ion, NiMH, and NiCd

NiMH/NiCd sizes:  AAAA, AAA, AA, A, C, and SubC
Li-Ion Sizes:  

10440, 14500, 14650, RCR123A (17340), 17500, 17670, 18350, 18500, 18650, 19670 (protected 18650), 25500, 26500, 26650, 20700 (including IJoy)

Can be set to 3.7V LiFeO4 charging or 4.35V high voltage li-ion charging by a switch on the PCB.  Default li-ion charging mode is 4.2V CC/CV.
Minus delta voltage charging for NiCd/NiMH reliable charging.
New backlit LED display tells you information
In the Box:
Opus BT-C3100 Charger/Battery Tester
1 US Power Adapter
Manual
Customer Reviews
Write a Review
Ask a Question
Filter Reviews:
BATTERIES
functions
charger
units
Opus
battery conditions
rates
YouTube
trouble
device
Opus BT-300
Set my Nicor aside to try this "bad boy" this is not just a charger but it also performs a plethora of other functions, quick test, full test and discharge. If you are a daily user of rechargeable batteries you should have the Opus. You have all heard horror stories of battery failures, this will give you the piece of mind that the batteries you are using are safe.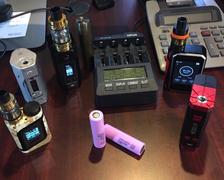 Buyer beware
These will not charge 21700 protected batteries, they're too long to fit.
05/17/2022
Matthew M.

United States
Excellent Charger for Eneloop and Amazon Basics
I have used this to charge AmazonBasics rechargeable batteries that weren't working with my Panasonic simple charger. It was charging them part way but then blinking to indicate a problem. I can fully charge these same batteries with the Opus BT-C3100 without issue at 700mAh.
11/21/2021
Dennis G.

United States
Good functionality, very noisy fan.
The functionality of this charger is good, but the fan is horrible. After a couple weeks it became very loud and squeals for the first 15-20 minutes of charging, after that it's not as bad, but still loud. I didn't return it because after a little research it seems to be a known issue for this charger and the company has yet to resolve it, so I'd likely end up with the same problem. I'll probably just do a Thingiverse fan modification on it. I suggest looking at a different brand.
09/21/2021
Thomas l.

United States
Battery charger
Very nice quality
---
We Also Recommend