XTAR Dragon VP4 Plus Battery Charger/Tester
---
This product is eligible for further discounts depending on how many you buy! You can purchase other products in the same category (batteries, chargers, or accessories) and it will add to the wholesale discount. Add some products to your cart to test!
---
XTAR Dragon Charger - Charge, Test, Refresh
The XTAR VP4 Plus "Dragon" charger is a great choice for any serious battery user. This charger/tester offers high speed charging (up to 2A x 2 bays), and a variety of advanced functions (including capacity testing and internal resistance testing). It also has a 0V "recovery" mode. It also works with both lithium ion and Ni-Cad/Ni-Mh batteries. It's a one stop battery shop!
USB Powered - Includes 3A Wall Adapter and Car Adapter. The XTAR Dragon charger offers a versatile standard USB cord, and comes with a 12V/3A wall adapter and 3A car adapter for maximum portability.
USB Output - Charge a Mobile Device. Need to charge your phone or tablet, but only have a set of charged batteries and your Dragon? No problem! The XTAR Dragon VP4 Plus can use your fully charged set of batteries as a power bank, and push up to 2.4A of current to another device. If connected to power, both the batteries and the connected external devices will receive a charge.
XTAR Direct. We are an XTAR Authorized dealer, and you can rest assured that you are purchasing a genuine XTAR Dragon charger. 
XTAR Dragon Features:
4 independent charging bays
USB connector, includes 3A car adapter and 3A wall adapter
Fast charging, up to 2A (2 channels) - programmable
Reverse polarity protection
0V battery recovery mode
Automatic charging cutoff
Ability to test battery capacity with full discharge/charge cycle
Measure internal resistance with included probe
Can also charge 11.1V/3S battery pack @ 1A
Specifications:
Connector type: USB (Standard)

NOT compatible with 2.1A car or wall adapter.

Input voltage: DC 12V/3A
USB Output voltage: DC 5V Max 2.4A
Charge speeds (selectable):
Cut off voltage:

Lithium Ion: 4.2V +/- 0.05V
Ni-Mh/Ni-Cad: 1.45V +/- 0.1V

Battery chemistry: Lithium Ion (IMR/INR/ICR) OR Ni-Mh/Ni-Cad
Common battery sizes:

Lithium Ion: 10440, 14500, 18350, 18650, 20700, 21700, 26650

Will fit all cylindrical lithium ion batteries from 10440 to 26650
Will NOT fit protected 20700/21700 cells

Ni-Mh/Ni-Cd: AAAA, AAA, AA, A, SC, C, D
Battery Pack: 11.1V/3S
In the Box:
Dragon VP4 Plus Charger
Charger bag
Battery probes
12V/3A wall adapter
3A car adapter
Manual
Customer Reviews
Write a Review
Ask a Question
Filter Reviews:
charger
BATTERIES
Amazon
stuff
ability
tester
issue
someone
cells
power
Solid battery tester with the capacity needed to test four D-cells at once
Overall, I like the build quality and it seems to be a good tester unit (I own ten VP4+ units). One VP4+ (that I bought from Amazon) had an issue with the rubber zipper pulls on the case crumbling and breaking for some reason. I have been using a single pair of the USB test leads pretty extensively, and one of the spring-loaded probe ends has a habit of sticking in the retracted position. I'm not sure why, but it doesn't affect use of the tester significantly. A drop of mineral oil might fix it right up. I just wish the testers had an even larger capacity for my specific project needs. A 10-bay tester that could accommodate D-cells would be awesome!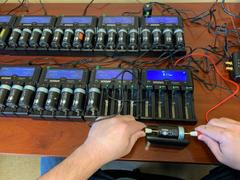 So far so good
The charger gives me confidence that the cells are being charged properly, and I can test them to sort out the ones that have might have some issues, before stringing them together to make a battery pack. I've only had this product for a few days, but so far it seems to be working fine. My only complaints would be: 1) That if you move it around, the power might cut out briefly. the DC power plug into the unit doesn't take any tugs to the side at all. If you are testing cells, this could set you back a few hours. 2) I wish it had a function to charge/discharge for storage. I have many cells that I probably wont use for a few months, it would be nice to test them and then return them to 50-60% charge for storage...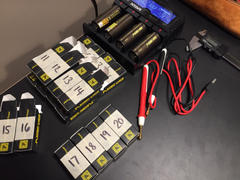 06/15/2021
Nicholas N.

United States
Excellent charger
Great clear readout. Good functionality. Seems reasonably consistent/reliable.
07/09/2020
Rob

United States
**** Charger
I purchased this on 2/26/2019. Within a couple months, the force of holding batteries in part of the charger - but not the other - twisted the cheap plastic chassis and it cracked. I taped it to prevent further twisting and it continued to function fine. That was, until today. Like some other reviewers, I now have an issue with the spring in the first slot. I had a battery sitting in there, untouched and charging, when I heard a loud snap. The spring inside has either broken or detached, and now the first slot of the charger is pointless. I won't be buying another one of these.
01/19/2020
Robert

United States
I wanted a really good charger.
I wanted a good charger that could charge a variety of types and sizes of batteries. After asking around and researching chargers. I purchased the XTAR Dragon. It was pretty new at the time and I paid double what they are selling for now. That being said I can rest assured that if I am not around and someone puts a battery in to charge it that it adjusts and charges it. I like a lot of the features this offers, plus I know that it has the ability to do stuff I haven't tried yet. I am happy with this charger, it seems to do it all.
---
We Also Recommend