XTAR Dragon VP4 Plus Battery Charger/Tester
XTAR Dragon Charger - Charge, Test, Refresh
The XTAR VP4 Plus "Dragon" charger is a great choice for any serious battery user. This charger/tester offers high speed charging (up to 2A x 2 bays), and a variety of advanced functions (including capacity testing and internal resistance testing). It also has a 0V "recovery" mode. It also works with both lithium ion and Ni-Cad/Ni-Mh batteries. It's a one stop battery shop!
USB Powered - Includes 3A Wall Adapter and Car Adapter. The XTAR Dragon charger offers a versatile standard USB cord, and comes with a 12V/3A wall adapter and 3A car adapter for maximum portability.
USB Output - Charge a Mobile Device. Need to charge your phone or tablet, but only have a set of charged batteries and your Dragon? No problem! The XTAR Dragon VP4 Plus can use your fully charged set of batteries as a power bank, and push up to 2.4A of current to another device. If connected to power, both the batteries and the connected external devices will receive a charge.
XTAR Direct. We are an XTAR Authorized dealer, and you can rest assured that you are purchasing a genuine XTAR Dragon charger. 
XTAR Dragon Features:
4 independent charging bays
USB connector, includes 3A car adapter and 3A wall adapter
Fast charging, up to 2A (2 channels) - programmable
Reverse polarity protection
0V battery recovery mode
Automatic charging cutoff
Ability to test battery capacity with full discharge/charge cycle
Measure internal resistance with included probe
Can also charge 11.1V/3S battery pack @ 1A
Specifications:
Connector type: USB (Standard)

NOT compatible with 2.1A car or wall adapter.

Input voltage: DC 12V/3A
USB Output voltage: DC 5V Max 2.4A
Charge speeds (selectable):
Cut off voltage:

Lithium Ion: 4.2V +/- 0.05V
Ni-Mh/Ni-Cad: 1.45V +/- 0.1V

Battery chemistry: Lithium Ion (IMR/INR/ICR) OR Ni-Mh/Ni-Cad
Common battery sizes:

Lithium Ion: 10440, 14500, 18350, 18650, 20700, 21700, 26650

Will fit all cylindrical lithium ion batteries from 10440 to 20700

Ni-Mh/Ni-Cd: AAAA, AAA, AA, A, SC, C, D
Battery Pack: 11.1V/3S
In the Box:
Dragon VP4 Plus Charger
Charger bag
Battery probes
12V/3A wall adapter
3A car adapter
Manual
Customer Reviews
Write a Review
Ask a Question
Filter Reviews:
pair
charger
discharge
BATTERIES
ones
charge
case
battery
power
cells
10/22/2019
James G.
United States
XTAR Dragon VP4 Plus
Large enough to charge 4 26650 batteries at the same time. Refresh function is nice to have, takes quite a while though. It also does not charge fully. It usually only charges to 95%. Then I can remove and reinsert the battery and it will then charge to 100%.
DRAGON ****
DON'T WASTE your hard earned doubloons on this pricey puppy. It's very cheaply made and if all you need it for is recharging various size batteries then almost any other charger will serve you better. Although there was no obvious damage after shipping or unpacking the unit, bay #1 lost it's spring-ability after about 15-20 battery recharges, being preceded by poor polar contacts. The three remaining bays functioned correctly, although all bays were heard or one felt the grind of each respective spring against the plastic infrastructure with each extension and contraction. Believing that a simple realignment and attachment of the spring in bay #1 would solve the problem I gingerly opened the unit only to find that not only was the spring off it's turret but the turret top had broken off. Additionally, of the seven small screws that held the bottom plate to the unit, four of them had their screw columns completely severed at the base plate level. That being said of it's construction, let me now relate to it's electrical functionality. As far as I am aware, the electronics worked as described but having to hand hold a battery while applying leads to it's poles and simultaneously changing/pushing buttons on the charger in order to check battery voltage is not my cup of Dragon Grog. Just for that reason, I avoided using this charger unless I had multiple charges (2) that I needed to complete quickly at the 2 amp setting. Of course when charging more than two (2) batteries, the unit defaults downward to 1 amp or 0.5 amp input but it doesn't default forward to 1 amp or 2 amp input if charging 1-2 batteries only. One must manually increase the amp input by pressing a very small inconspicuous red button or otherwise wait the extended amount of time for the charge to complete. I also dislike the fact that since there is no unit on/off button ( like most chargers) it's blue LED lights are constantly burning, reminding you the unit is active or alive, even though there are no batteries in any bays. I find that terribly annoying and although a piece of tape can help alleviate the distractive glow, I found unplugging the unit from the back more satisfying but burdensome. I suppose I should have contacted Liion about the issues I had regarding the poor construction as I described but they didn't build it. They only sold it. Thus, voicing my Dragon Disappointment via this venue will have to suffice. Buyer Beware.
07/26/2019
Liion Wholesale Batteries
Hi Trip - Thank you for your review. It sounds like your charger had a lot of issues before we even shipped it to you. We will be contacting you, via email, to resolve this issue and get you a replacement charger.
07/05/2019
Cody S.
United States
Excellent charger
I've used an XTAR VP2 for 6 years or so, and it's still going strong. I knew XTAR would be a great option for a 4 Bay 'smart' charger, so I went with this Dragon. It came well packaged with a zipper case that holds the unit and all the accessories. The refresh features and such seem accurate and reliable. The battery slides are smooth as butter with a firm grab on my 14500's up to my 21700's and 26650's. The only gripe I have is that the red/green lights above each bay are ****** bright, and we're bothersome at night. This was easily rectified with carefully applied pieces of electrical tape.
04/30/2019
Michael P.
United States
Solid battery tester with the capacity needed to test four D-cells at once
Overall, I like the build quality and it seems to be a good tester unit (I own ten VP4+ units). One VP4+ (that I bought from Amazon) had an issue with the rubber zipper pulls on the case crumbling and breaking for some reason. I have been using a single pair of the USB test leads pretty extensively, and one of the spring-loaded probe ends has a habit of sticking in the retracted position. I'm not sure why, but it doesn't affect use of the tester significantly. A drop of mineral oil might fix it right up. I just wish the testers had an even larger capacity for my specific project needs. A 10-bay tester that could accommodate D-cells would be awesome!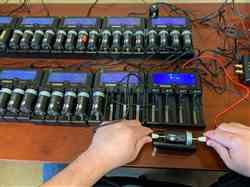 03/15/2019
Michael R.
Canada
So far so good
The charger gives me confidence that the cells are being charged properly, and I can test them to sort out the ones that have might have some issues, before stringing them together to make a battery pack. I've only had this product for a few days, but so far it seems to be working fine. My only complaints would be: 1) That if you move it around, the power might cut out briefly. the DC power plug into the unit doesn't take any tugs to the side at all. If you are testing cells, this could set you back a few hours. 2) I wish it had a function to charge/discharge for storage. I have many cells that I probably wont use for a few months, it would be nice to test them and then return them to 50-60% charge for storage...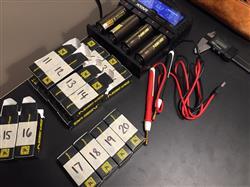 ---
We Also Recommend