Nitecore D4 4-bay Digital Lithium Ion Battery Charger - Wholesale Discount
---
This product is eligible for further discounts depending on how many you buy! You can purchase other products in the same category (batteries, chargers, or accessories) and it will add to the wholesale discount. Add some products to your cart to test!
---
A great digital rechargeable battery charger with a very sophisticated display.  Does not charge as quickly as the Efest LUC but has a better display.  Be sure to cycle through the images to see all features of this great charger.
All versions come with the AC wall cord, but the version with car adapter also includes a car adapter that can be used with a 12V cigarette lighter so you have charging options.
NO BATTERIES INCLUDED
Great 18650 battery charger that is also compatible with the following IMR/Li-ion/LifePO4 sizes:  21700*, 20700*, 26650, 22650, 18650, 18490, 18350, 17670, 17500, 16340(RCR123), 14500, 10440

*The IJoy 20700 and 21700 will fit in this charger, but they're VERY snug. Please be very careful when using with these batteries!
*MOST 20700/21700 cells will NOT fit in this charger.

Also compatible with Ni-mh and Ni-Cd in AA/AAA/AAAA/C sizes
Input:  AC 100-240V 50/60 Hz 0.35A max OR DC 12V 1A
Output Voltage:  4.2V +/- 1% / 3.7V +/- 1% / 1.48V +/- 1%
Output Current:  0.375A per channel with 3-4 batteries OR 0.75A per channel with 2 or less batteries
See the picture slideshow for more features.
In the Box:
Nitecore D4 Digital charger
1 AC Wall Adapter Charging Cable
Warranty Card
Manual
Customer Reviews
Write a Review
Ask a Question
Filter Reviews:
charger
BATTERIES
display
low&quot
plenty
tray
gripe
wholesale
deal
best
Great charger in an awesome price!
Overall, I'm very satisfied with this charger. It does what I needed it to do. I love the the digital display after coming from my Olight Omni-Dok. I'm looking to also buy the new Nitecore UMS4, so I can charge more batteries at once. I just wish mine came with a manual, I don't know why mine didn't come with one. I'll just have to go download it online.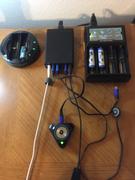 11/29/2021
Bruce S.

United States
Fast shipping
Battery's and charger work excellent ! Good prices and service
11/15/2021
MIKE D.

United States
Great charger
Great running charger. Stays cool, simple to use. If I had any complaints I wished the lights turned off when the batteries were completed charging and the batteries were a little easier to get out of the charger. I keep my nails trimmed as I am an auto mechanic and it's difficult to put the batteries up and out. It would be great if there was a button or something that pushed them out of the slot to make it easier to grab.
09/30/2021
Judy R.

United States
Great product!
Great working product from an honest and fast company! Can't ask for better!
08/16/2021
Terry G.

United States
Nitecore Digicharger D4
The charger was great, awesome... Something I was super excited over purchasing... I purchased for work, to charge my 18650 Li-ion batteries for my light I wear on my hard hat, as I work night shift.. 12-18 hour shifts each, product worked amazingly for the first week.. until the LCD screen just suddenly stopped working.. I am currently in contact with the company discussing the warranty options as I type... But overall.. I think it's definitely worth 30 bucks!
---
We Also Recommend