Vapcell S4 Plus Battery Charger and Battery Discharge Tester - Wholesale Discount
---
This product is eligible for further discounts depending on how many you buy! You can purchase other products in the same category (batteries, chargers, or accessories) and it will add to the wholesale discount. Add some products to your cart to test!
---
New upgraded (July 2020) version of Vapcell S4 Plus charger!
Vapcell S4 Plus Features:
Independent slot charging
Automatically recognizes battery type (Li-ion, Ni-Mh, Ni-Cd)
Able to run capacity test
Reverse battery and short circuit protection
Temperature sensor to prevent overheating while charging
Button top contacts for recessed flat top batteries
Overcharge protection
Activate and repair 0V lithium batteries
Automatically calculates charging time
Specifications:
Connector type: AC Wall Adapter
Input voltage: DC 12V/5A
Charge speed:

Lithium Ion: .25A, .5A, 1A, 1.5A, 2A, 2.5A, 3A x 4
Ni-Mh/Ni-Cd: .25A, .5A, 1A x 4

Cut off voltage:

Lithium Ion: 4.2V +/- 1%
Ni-Mh/Ni-Cd: 1.48V +/- 1%

Battery chemistry: Lithium Ion (IMR/INR/ICR), Ni-Mh, Ni-Cd
Common battery sizes: 

Lithium Ion: 10340, 10440, 14500, 16340, 16650, 17500, 17650, 17670, 18350, 18490, 18500, 18650, 20700, 21700, 22650, 26500, 26650, 20650, 22500, 25500

Able to charge protected 20700 and 21700 size cells

Ni-Mh/Ni-Cd (1.48V): AAAA, AAA, SC, C
In the Box:
Vapcell S4 Plus charger
DC Wall Adapter
Manual
Customer Reviews
Write a Review
Ask a Question
02/07/2021
Craig S.

United States
STILL BUGGY
Unable to complete a capacity test. It will charge and discharge the battery but then it in a matter of 30 to 40 seconds the percentage just counts up to 100% and the charger stops. This was a reported problem when the charger was first released and the "upgraded" version still has the same problem. Plus the charger chooses the discharge rate, not you. As you see in the photo it chose 500mA to discharge this new freshly charged Molicel P42A that shows a 20ohm resistance value even though I selected 1 amp in manual mode. The low capacity reading seems legit because my Opus had an even slightly lower reading. I left the charger sit for over two and a half hours and the voltage only rose by 0.2v during that time. Both the slots 1 and 4 have this problem. I did not try slots 2 and 3 because those 2 slots are have a maximum 500mA discharge rate. But it is capable of charging 4 cells simultaneously at 1.5 - 2 amps without breaking a sweat, even though it can charge 4 cells at 3 amps, I'm not comfortable pumping 3 amps into my cells. And it has very long slots for protected 21700 cells. Just be sure you can live with its bugs and limitations.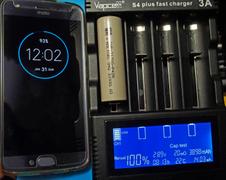 11/25/2020
Robert O.

United States
07/29/2021
ROBERT E.

United States
Glitches-Does not work as advertised
It charges the batteries very well. After that I see a lot of room for improvement .You can not just put the battery in and let it charge,discharge and charge..like my Opus. I was told after this charges to write the numbers down and then charge it and look at the numbers again. At the point when the discharge was complete I pressed and held the mode button to choose charge. It went from 0% to 100% in less than a minute and will not charge the batteries . I believe you have to physically pull them out and then put them back in. That's another inconvenience where you have to be there when it ends. How much mAh does it gain if it sits for several minutes anytime I take a battery out of a flashlight it rebounds a bit. So how accurate would that be as far as the capacity result numbers from discharge to being charged again. It's a good charger but to me it's useless as far as getting capacity results. From what I mentioned above and unless you want to charge your 4 X 26650 and 21700 Etc at 500 milliamps. But it is going to take eight or nine hours just to do that. Even if it works properly you can only charge slot one and four at one amp .I can't quite understand that. When you can charge Four batteries at 3 amps. I think I heard someone on BLF say because of all the other extras they have on the display. So I use it as a charger hopefully it has longevity.
05/07/2021
Justin S.

United States
Great charger with one bug
Solid charger. 3A is great. Being able to measure internal resistance is great. The capacity test sometimes leaves the cells at 3V instead of charging them back up. Maybe 1/4 of the time. That's a bug and runs counter to the docs. I would really like a "storage" mode which would set the cells to 3.7V.
04/18/2021
Scott C.

United States
Terrible
I just actually went to go use this product again today and it is defective the lights are flashing and it is not properly charging. I bought two of these.
---
We Also Recommend