18650 PVC Heat Shrink Wraps - 10 pack - Transparent Blue
---
This product is eligible for further discounts depending on how many you buy! You can purchase other products in the same category (batteries, chargers, or accessories) and it will add to the wholesale discount. Add some products to your cart to test!
---
PVC Heatshrink, precut for 18650 batteries. Need to rewrap your batteries? These handy precut, heat-shrink PVC tubes are the right size for 18650 cells. Customize your cells, categorize them, and refresh them - get more life out of your batteries instead of discarding them if the wrap is damaged! (Don't forget to pick up insulators as well).
Fits shorter 18mm cells too. Need to rewrap another 18mm wide battery, that's shorter than an 18650? Say, an 18350, 18490, or 18500? No problem, just trim these to length.
Handy 10 Pack. These wraps come in 10 packs, so you'll have enough to cover your rewrapping needs for a while.
Measurements:
Application Tips:
ONLY use a heat gun or hair dryer on the lowest heat setting. DO NOT use a lighter, torch, stove, open flame, or any other heat-generating appliance to apply heat to the wrapper.
Customer Reviews
Write a Review
Ask a Question
Filter Reviews:
⭐️ ⭐️ ⭐️ ⭐️
insulators
Liion Wholesale
quality
order
price
Excellent wraps!!!
These wraps are the same length and thickness of factory LG, Samsung, and Sony wraps. They fit absolutely perfectly!! Also, the wraps install incredibly quickly and easily with a standard hairdryer. I always peel off the factory wraps and put on new wraps immediately after buying batteries. I don't care for the brown LG HG2, pink Samsung 30Q, or green Sony VCT5/6 colors that the companies use. I prefer for my battery wraps to match my mods. Also, the wraps allow me to keep track of the date which I purchased the batteries.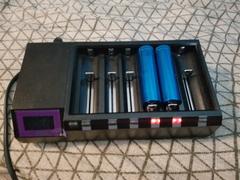 07/13/2020
Jason J.

United States
02/17/2020
Ronald M.

United States
Heat Sink Material - Multiple Colors...
This is an awesome product. I bought four different colors and they all look fantastic. I will plan on buying more in the future, and also telling my friends about them. Thanks again, Ron.l
02/10/2020
John C.

United States
As expected
Well, they're wraps. Look good and fit as they should.
10/15/2019
Luke A.

United States
18650 Wraps
These worked very well. Don't forget to order your insulators at the same time. I placed my first order in the evening and the entire order shipped the following day. I'm very happy with Liion Wholesale.
---
We Also Recommend