XTAR VC4 Battery Charger
---
This product is eligible for further discounts depending on how many you buy! You can purchase other products in the same category (batteries, chargers, or accessories) and it will add to the wholesale discount. Add some products to your cart to test!
---
XTAR VC4 Charger - Affordable, Popular, Easy to Use 4 Bay Charger
The XTAR VC4 Charger is one of the most popular chargers on the market, and for good reason: it offers reliable charging speed (up to 1A x 2), can charge both li-ion and Ni-MH batteries, and has an easy to read display that tells you how much capacity was put into the battery while it was charging.
Perfect balance of features and being easy to use. This is a great every day charger, and especially good for folks who are buying their first charger and want some nice features without too much of a learning curve.
USB Connector. The USB connector on the XTAR VC4 makes it very portable - you can hook it wherever you have a USB outlet available. (Note that for fastest charging, you'll need to use a connector with at least 2.1A power. Our 2.1A wall adapter is sold separately.)
XTAR Direct.  We are an XTAR Authorized dealer, so when you purchase your VC4 from us, you'll know you're getting a genuine XTAR product.
With Wall Adapter Option:
All versions come with the USB cable, but there is a version with wall adapter that includes a LiionWholesale 2.1A rated USB wall adapter for easy at home charging. Select which version you would like from the drop down box.
XTAR VC4 Features:
Easy to read "tachometer" style display shows mAh
USB connector
Reverse polarity protection
Automatic charging cutoff
0V battery activation to restore dead batteries
Charges both li-ion and Ni-MH/Ni-Cd batteries
Specifications:
Connector type:

2.1A wall adapter

 

version available in the drop down box

Minimum 5V/2.1A power source/adapter recommended

Input voltage: DC 5V/2.1A
Charge speeds (auto selected):

.5A x 4
1A x 2 (Channel 1 & 4)

Cut off voltage:

Li-ion: 4.2V +/- 0.05V
Ni-MH: 1.45 +/- 0.1V

Battery chemistry: 
Battery chemistry: Lithium Ion (IMR/INR/ICR 3.6V/3.7V) OR Ni-Mh/Ni-Cd
Common battery sizes: 

Lithium Ion: 10440, 14500, 18350, 18650, 20700, 21700, 26650

Will fit all cylindrical lithium ion batteries from 10440 to 32650
Will NOT fit protected 20700/21700 cells

Ni-Mh/Ni-Cd: AAAA, AAA, AA, A, SC, C
In the Box:
XTAR VC4 Charger
XTAR Carrying Bag
USB Cord
Manual
Customer Reviews
Write a Review
Ask a Question
Filter Reviews:
charger
BATTERIES
display
price
works
battery charger
sizes
bays
money
order
10/18/2020
Anatoly I.

United States
07/30/2019
Brian W.

United States
Awesome charger
What a great charger for the money. It charges pretty much all sizes and chemistries. I like the readout display. Knowing how charged your batteries are is wonderful. I like it does not continue to charge when full. I like it displays the type of battery (Li-ion/Ni-mh....) and the amp output max is 2a for 4 batteries and the max for a single battery is 1a. I do not want to charge any faster than 1a. Outer slots are 1a max whike the center 2 are .5a so I can control the speed if I want to. When charging my NiMh AAA I use the 2 center bays which are .5a max (gets a little to hot for me at 1a) and Then if I need to I can put my 18650's on th outside bays, so when the AAA finish the 18650's go from .5a to 1a so I know I'm getting the fastest charge using all 4 slots. It's great each bay separate from each other. You can always tell when they are not separate because A battery 1/2 charged will finish at the same time as a fully discharged one. I also like it is usb so I can charge in my car or hotel or wherever I take it. Just make sure your power supply is at least 2a output since a lot are only .5a. To split .5a 4x would cause charging anything take forever. I bought the one without the wall power supply because my car and all others are at least 2amp rated. the over discharge recovery feature works. It brought back 2 14500 that were over discharged. So right there it almost paid for the charger. I did not have to buy 2 replacement 14500 which would have been ~$10. I highly recommend this charger.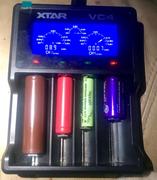 Glad I bought it
So far I'm quite fond of this thing. Dig the tach style display. Much better than my Luc and Nitecore chargers-smoother slides and plenty of room for 20700's. Overall I like my Opus better(for the price difference, I should like the Opus much better). IMO the VC4 is the best charger in this price range. Make sure and use 2.1 amp or higher USB adapter, I bought this without adapter and plugged it in without noticing I had a 1 amp adapter and it powered on, but, didn't charge. Probably shortened its lifespan by doing that. Learn from my mistake.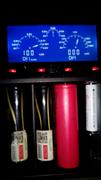 Great charger
First one had a light issue but because of Lion Wholesale great customer service i will still give 5 stars. I usually use single battery Squonk mods so charge 2 battery's at a time so love the 1amp don't really need 2 amp. But biggest pro is screen and how my 20700s fit with ease probably can fit a 750 snug like the 700's fit in my LUC V6 charger lol overall great 1 amp charging and 4 .5amp if need. I've fit 4 20700's but proballly only 3 21700 but don't have any yet lol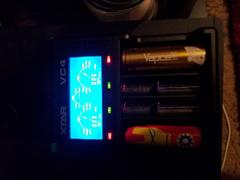 Great charger
Love this little charger. Very easy to use and love the display.
---
We Also Recommend