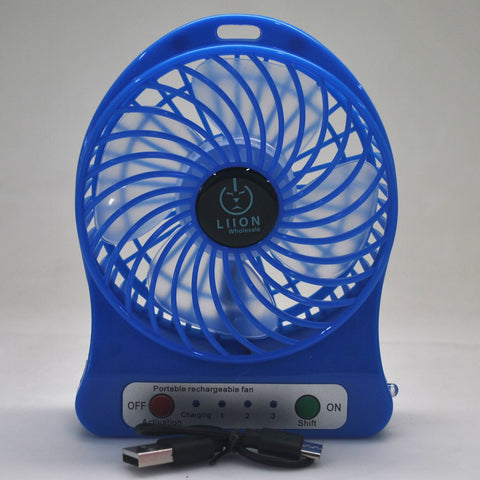 Mini Fan - Blue
---
This product is eligible for further discounts depending on how many you buy! You can purchase other products in the same category (batteries, chargers, or accessories) and it will add to the wholesale discount. Add some products to your cart to test! Please note that during special sales you may see no quantity pricing table above in which case the sale price is the price no matter the quantity.
---
Portable USB Mini-Fan
With 3 fan speeds, LED lighting and a charging mode, this stylish and portable blue mini fan, powered by a removable 18650 battery, will keep you cool wherever you go.
Don't have a battery handy? Plug the included micro USB cable into a USB compatible device.
Battery NOT included. Please note that the fan WILL NOT come with a compatible battery.
Recommended batteries. The best battery to pair with this fan is the Sinowatt 34MP.
Variety of colors. Fans are also available in pink, green, black, orange, purple and red.
Mini Fan Specs:
Compatible batteries: Unprotected

 flat top or button top 18650 only - not compatible with protected cells

Output power: 4.5W (max)
Charger - Input:

0.5A-1A

Output: 5V 1A DC
Dimensions: 140mm x 106mm x 42mm
Approximate diameter: 3.8in
If running on USB power, fan

 

will be limited to the lowest setting.
In the box:
Blue mini fan
Micro USB Cable
*Compatible batteries NOT included.*
---
We Also Recommend