Vapcell T42 21700 35A/50A Flat Top 4200mAh Battery - Genuine - Wholesale Discount
---
This is a CLEARANCE product. No additional quantity discounts will be given. All sales will be considered final. Quantities ordered will not count towards quantity discounts on other products.
---
The absolute lowest internal resistance cell on the market, but doesn't quite meet Vapcell specifications

This T42 cell is a rewrapped sample cell from a huge manufacturer of one of their unreleased cutting edge cells (we can't say who).  It is amazingly powerful at high current.  However, being samples, they do not quite meet the stated manufacturer capacity specifications.  Since they are still amazing batteries, we are offering them but with modified capacity guarantees and with a lower price than we would otherwise.  Snap them up while they're here because we won't be restocking!
Performance Details
Vapcell rates them as 4000mAh minimum when charged with a 100mA charging cut-off current.  Some do meet the 4000mAh minimum but many don't, which is why these are available at a lower price.  We recommend using a more typical 20mA cut-off current and with this you should see 3900mAh or more, most actually more like 3980mAh.   We will not consider returns due to capacity issues unless you see below 3850mAh.
Vapcell T42 21700 4200mAh Specifications:
Size: 21700

Approximate 

Diameter: 70.1mm

Approximate 

Length: 21.5mm
Brand: Vapcell
Manufacturer Rated Capacity: 4200mah
Manufacturer Rated Max Continuous Discharge Current: 35A

Max Discharge Current: 50A (with 80°C cut)

Manufacturer Rated Typical Capacity:

 42

00mah (0.2C discharge)
Manufacturer Rated Minimum Capacity: 4000mah (0.2C discharge) NOTE some tested 3900mAh-4000mAh, see "Performance Details" above
Nominal Voltage: 3.6V
Peak Voltage: 4.2V
Protected: NO
Style: Flat Top
Color: Red
Origin: China
Manufacturer's Discharge Graph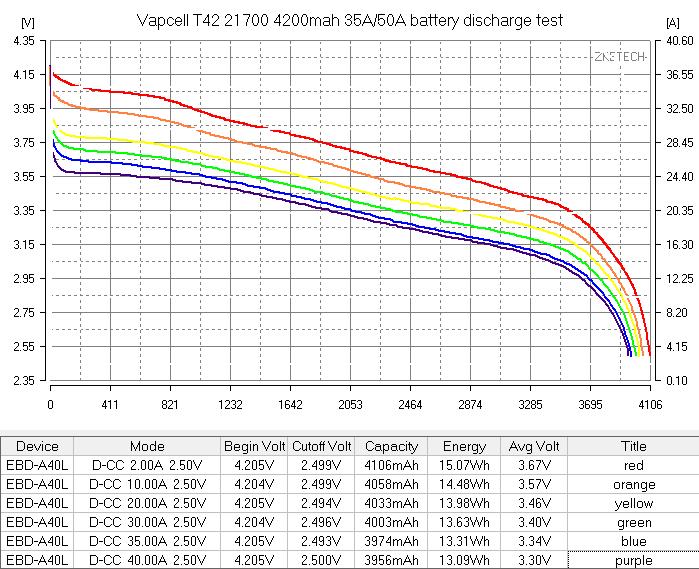 Vapcell direct.
These batteries are direct from Vapcell. If you purchase a pair, you will also receive a Vapcell EVA zipper case.
Priced per battery, not per pair.


We don't sell bogus batteries. When buying from LiionWholesale, you can rest assured that we only work with top tier manufacturers to bring you the best, most reliable, trustworthy batteries that will perform above and beyond your expectations. And we test every shipment to ensure consistent quality.
Batteries are sold individually.
If your battery is damaged or defective on arrival (will not take its first charge, or has issues with its first cycle), please let us know within 14 days of receiving your order and we'll make it right. Please read our complete store policy on defective products here for more information and to see if you're eligible.
Battery Warning
Warning: Lithium ion batteries may explode or burn due to improper use. Using these batteries for purposes not intended by the manufacturer, including outside a battery pack and/or without a BMS, may cause severe injury and damage. We are not responsible for any injuries caused by lithium ion batteries - use at your own risk.
All rechargeable batteries have inherent risks under any circumstance. Use caution with working with li-ion batteries (lithium-ion), LiPo (lithium ion polymer), and any rechargeable cells (together "rechargeable batteries"), as they have dangerous charging characteristics and are known to explode or burn if mishandled. A purchaser and user of rechargeable batteries should educate themselves on rechargeable batteries, especially as to charging, discharging, assembly, and storage. Learn more about proper storage and care for rechargeable batteries here. We are not responsible for any damage caused by the misuse or mishandling of rechargeable batteries.
Here are a few tips:
Never completely discharge batteries (below 2.5V under load or 3V unloaded)
Charge fully (to 4.2V) before first use
Never charge batteries to 4.3V or above
Do not charge unattended
Do not store your li-ion batteries fully charged for an extended period of time (weeks or more)
If you must store your battery, only store in a case or individual box in a cool and dry place at approximately 3.6-3.7V
Use only high quality battery chargers
Do not expose to heat
Do not connect the positive contact to the negative contact without an appropriate load
Never exceed the battery's specifications
Never try to charge or discharge li-ion batteries with battery chargers that are not made for li-ion batteries
Always charge these batteries on and within fireproof material
Never leave rechargeable batteries in a recharging station unattended
Do not use any rechargeable battery or charger if any visible damage is present, or if known mishandling, accidental or otherwise, has occurred
Always store and transport rechargeable cells in a safe, non-conductive container (never keep a spare battery loose in a pocket, purse, etc. and always use protective cases)
Properly dispose of all battery cells and chargers in accordance with local laws and mandates (if you're unsure, contact your local municipality)
If a rechargeable battery overheats, hisses, or bulges, immediately quarantine the battery from any combustible materials - ideally, take the battery outside
If a rechargeable battery catches fire, the FAA recommends pouring water or soda on the battery and surrounding areas - ideally, use a foam extinguisher to quell the fire
By purchasing this product, you agree that seller makes no warranties whatsoever with respect to the goods sold on this website, including any (a) warranty of merchantability or (b) warranty of fitness for a particular purpose, whether express or implied by law, course of dealing, course of performance, usage of trade or otherwise. Buyer acknolwledges that it has not relied upon any representation or warranty made by seller, or any other person on the seller's behalf. If purchasing for resale, buyer assumes all responsibility and agrees to forward all notifications and warnings to the purchaser.
Customer Reviews
Write a Review
Ask a Question
10/20/2023
Richard M.

United States
Good
I haven't tested the amps but it makes my SFH55 brighter than Molicel
09/28/2023
ROBERT H.

United States
Legit
Probably the best battery I've bought in the past 6 or 7 years. In fact, I bought a bunch of these. I like that they are powerful and actually last me a day, and they continue to pump out sufficient amounts of electrons after several uses.
08/08/2023
jay c.

United States
New Batteries All work
As I expected the batteries are all working fine as they should. 4/4, no duds. Plus the color matches cases was a really nice touch.
02/28/2023
MICHAEL D.

United States
Powerful battery, fast service
Truly high amp 21700 battery used in custom flashlights to get the most out of them. Super fast service from Liion!
12/17/2022
Joe S.

United States
Vapcell T-42 21700 battery
These batteries are pretty good they don't last as long as others ive had but they do the job!
---
We Also Recommend