Molicel/NPE INR-18650-P28A 35A 2800mAh Flat Top 18650 Battery - Authorized Distributor
---
This product is eligible for further discounts depending on how many you buy! You can purchase other products in the same category (batteries, chargers, or accessories) and it will add to the wholesale discount. Add some products to your cart to test!
---
Molicel/NPE P28A INR-18650-P28A 18650 Battery Cell
The Molicel P28A is the newest technology battery from Moli and is just releasing as samples in May 2019, with full production in 2021.  It's a fantastic 18650 and is a more versatile version of the very popular P26A 18650 battery.  35A capability in a 2800mAh battery makes it one of the best 18650's for high capacity when you might need high power.  It performs about equally to P26A in high power situations, but in lower power situations will eke out just a little bit more mAh (2800 vs the P26A's 2600).
View Mooch's P28A retest results here.
Authorized Molicel/NPE US Distributor - Guaranteed to be Grade A, Unused, and Manufacturer Approved. 
Liion Wholesale is an authorized US distributor of these cells in partnership with New Power Energy. Other versions sold as "OEM" are not officially authorized sales and are not direct from the factory. Unlike any unauthorized "OEM" P28A, these are guaranteed genuine, grade A, and in unused condition.  Please see more information here:
Liion Wholesale and Molicel/NPE Authorized Distributor Announcement
Priced per battery, not per pair.
Molicel/NPE P28A INR-18650-P28A 18650 Cell Specifications: 
Size: 18650

Approximate 

Diameter: 18.6 mm (Max)

Approximate 

Length: 65.2 mm (Max)
Brand: E-One Moli Energy Corp. (Molicel) & New Power Energy (NPE)
Manufacturer Rated Capacity: 2800mAh
Manufacturer Rated Standard Discharge Capacity: 2600mAh (Minimum)
Manufacturer Rated Max Discharge Current: 35A
Nominal Voltage: 3.6V
Peak Voltage: 4.2V
Protected: NO
Style: Flat Top
Color: Gray
Origin: Taiwan
Certifications:  UN38.3, UL1642, IEC 62133
We don't sell bogus batteries. When buying from LiionWholesale, you can rest assured that we only work with top tier manufacturers to bring you the best, most reliable, trustworthy batteries that will perform above and beyond your expectations. And we test every shipment to ensure consistent quality.
Batteries are sold individually.
If your battery is damaged or defective on arrival (will not take its first charge, or has issues with its first cycle), please let us know within 14 days of receiving your order and we'll make it right. Please read our complete store policy on defective products here for more information and to see if you're eligible.
Battery Warning
Warning: Lithium ion batteries may explode or burn due to improper use. Using these batteries for purposes not intended by the manufacturer, including outside a battery pack and/or without a BMS, may cause severe injury and damage. We are not responsible for any injuries caused by lithium ion batteries - use at your own risk.
All rechargeable batteries have inherent risks under any circumstance. Use caution with working with li-ion batteries (lithium-ion), LiPo (lithium ion polymer), and any rechargeable cells (together "rechargeable batteries"), as they have dangerous charging characteristics and are known to explode or burn if mishandled. A purchaser and user of rechargeable batteries should educate themselves on rechargeable batteries, especially as to charging, discharging, assembly, and storage. Learn more about proper storage and care for rechargeable batteries here. We are not responsible for any damage caused by the misuse or mishandling of rechargeable batteries.
Here are a few tips:
Never completely discharge batteries (below 2.5V under load or 3V unloaded)
Charge fully (to 4.2V) before first use
Never charge batteries to 4.3V or above
Do not charge unattended
Do not store your li-ion batteries fully charged for an extended period of time (weeks or more)
If you must store your battery, only store in a case or individual box in a cool and dry place at approximately 3.6-3.7V
Use only high quality battery chargers
Do not expose to heat
Do not connect the positive contact to the negative contact without an appropriate load
Never exceed the battery's specifications
Never try to charge or discharge li-ion batteries with battery chargers that are not made for li-ion batteries
Always charge these batteries on and within fireproof material
Never leave rechargeable batteries in a recharging station unattended
Do not use any rechargeable battery or charger if any visible damage is present, or if known mishandling, accidental or otherwise, has occurred
Always store and transport rechargeable cells in a safe, non-conductive container (never keep a spare battery loose in a pocket, purse, etc. and always use protective cases)
Properly dispose of all battery cells and chargers in accordance with local laws and mandates (if you're unsure, contact your local municipality)
If a rechargeable battery overheats, hisses, or bulges, immediately quarantine the battery from any combustible materials - ideally, take the battery outside
If a rechargeable battery catches fire, the FAA recommends pouring water or soda on the battery and surrounding areas - ideally, use a foam extinguisher to quell the fire
By purchasing this product, you agree that seller makes no warranties whatsoever with respect to the goods sold on this website, including any (a) warranty of merchantability or (b) warranty of fitness for a particular purpose, whether express or implied by law, course of dealing, course of performance, usage of trade or otherwise. Buyer acknolwledges that it has not relied upon any representation or warranty made by seller, or any other person on the seller's behalf. If purchasing for resale, buyer assumes all responsibility and agrees to forward all notifications and warnings to the purchaser.
Customer Reviews
Write a Review
Ask a Question
Filter Reviews:
BATTERIES
Molicel
FLAT TOP
cells
Vape
difference
18650
2800
INR-18650-P28A
gift
08/26/2019
Douglas J.

United States
I Love ALL My Molicel Batteries!
I'm an avid vaper with a rather large collection of vape mods. I replaced all of my 18650, 20700 and 21700 cells with Molicel batteries. I had been using Samsung, Sony and Golisi batteries and I definitely notice a difference. I have a Lost Vape Triade DNA250C 300 watt Mod. It uses three 18650 cells and it will last 2 days on Molicel/NPE INR-18650-P28A 35A 2800mAh Flat Top 18650 Batteries, vaping at 120 watts! Awesome Product!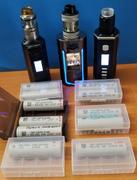 Molicel/NPE 18650 flat top batteries
Great product for vaping. Ignore the warning that says "not recommended for vape devices".
04/29/2022
Dennis E.

United States
Great replacememts
These replaced my degraded Sony VTC 5A's. Battery life has been great in my Ravage230. They last a full day easily at low wattage. Liion Wholesale is top notch. This is my second purchase and both transactions were flawless. Thanks for the gift! It has been used many times.
04/07/2022
DEAN W.

United States
BEST BATTERY
I have to say this is the best battery on the market. I have done the lg from stores and the samsung 25a. The best i found untill this was online the sony vct5 and loved it gave me the best power. I have to say the MOLICEL/NPE P28A took it to the next level. I have many tanks and mods but what i like is my Smok tf12 rba, yes its a triple build, I run coils at .12 and most batteries can not keep up at 110 to 120 and sometimes above. but this battery did the high amp hit gives you the spark and just contines on. It is the better verision of the sony vtc5.
03/22/2022
Chianti Z.

United States
Molicel P-28A
Deliveries incredibly power nice to purchase from an authorized vendor.
---
We Also Recommend